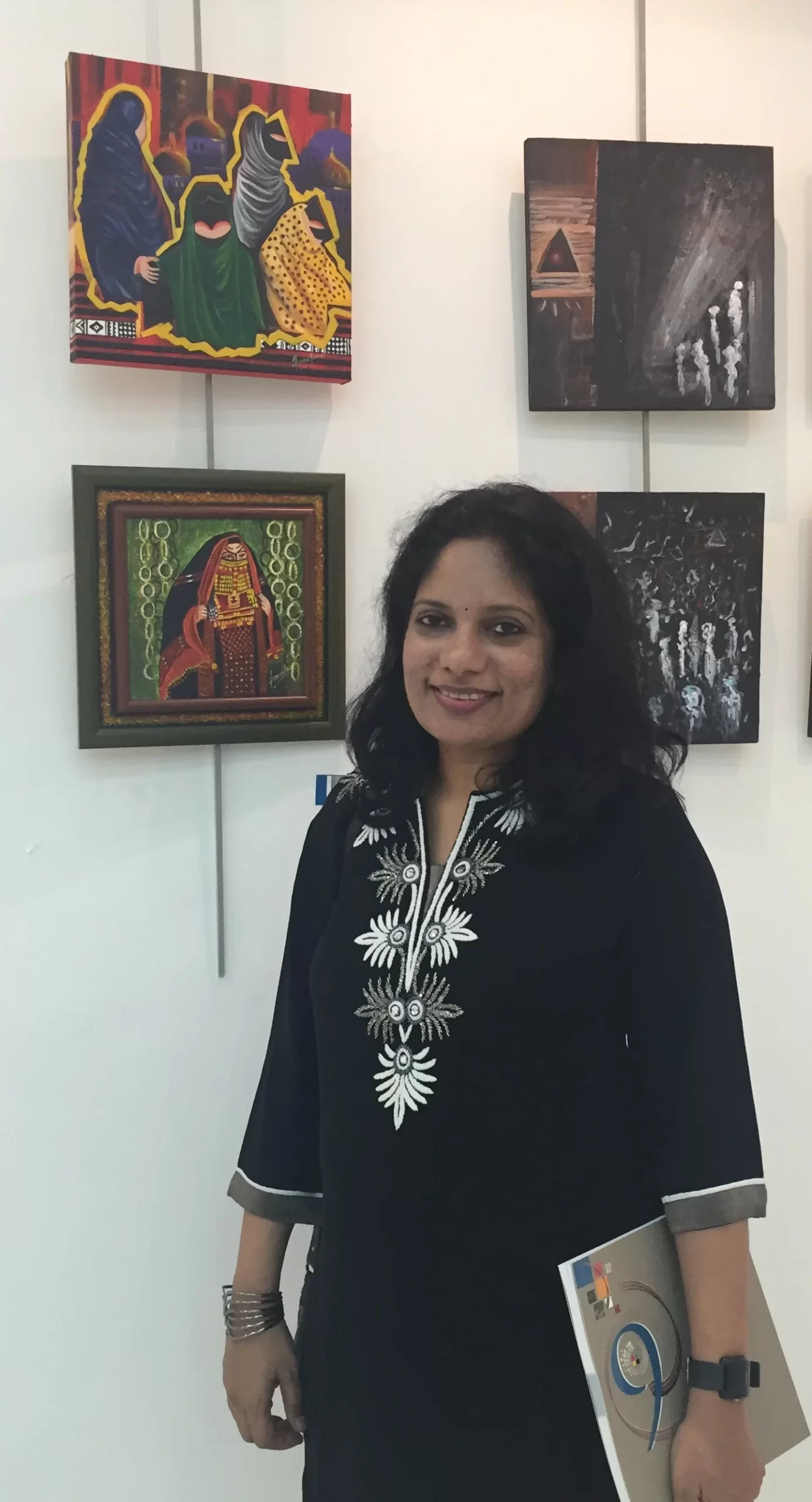 CREATIVE ARTIST CURRENTLY BASED IN CHENNAI, INDIA
Harini Kumar is a renowned Indian Artist who is well known for her distinctive style of artwork. She is a Fine Arts Graduate from Stella Maris College, Chennai. She started off her career as an illustrator and graphic designer. She started painting seriously about 15 years ago and has been actively participating in various art exhibitions in many countries such as Oman, UAE, India and Greece. She has been a resident of Oman for the past 27 years. She is a member of Rangrez Oman, the art wing of the Indian Social Club and a member of the Omani Society of Fine Arts, where she exhibits regularly.
She works with a variety of mediums such as Oils, Acrylics & Charcoal and is a contemporary artist with a semi-abstract expressionistic style, with the use of vivid colors and dynamic brush strokes. Many of her works also lean towards Cubism, with their defragmented, faceted strokes and forms.
Currently she is a member of Rangrez Oman, the art wing of the Indian Social Club. In January 2021, Harini was the pioneer curator and organizer of the first virtual exhibition conducted by Rangrez. The first exhibition she concepturalized was titled 'All Creatures Great & Small.' SInce then she has been a regular participant and committee member for the monthly exhibition by Rangrez in 2021.

She is regularly commissioned for original paintings by art lovers and has participated in a large number of different workshops and art events both in Oman and other countries. In the year 2020, she was a winner in a few art competitions conducted in India and the UAE.
Harini regularly participates in the Twitartfestival – a charitable organization which conducts exhibitions all over the world. All postcards that are sent go to charity. Harini conducted an art workshop for underprivileged school children in India as part of the Teach for India initiative in Chennai, on the 26th of November 2013. She has also participated in the exhibitions conducted by Dar Al Ata'a charitable organization In Oman, where all the proceeds went to charity.
Harini has recently relocated to Chennai, India.